Welcome to Popcorn Planet
Award-winning family-run popcorn manufacturer, based in London in the UK. We produce a growing range of brand and private label popcorn for several of the national retailers and snack brands. Our emphasis is on producing premium quality popcorn, but with a real edge to flavours and product options. Our efficient approach to manufacturing helps maximise our customer's profitability by offering the highest quality products and outstanding customer service at prices that work.
CONTACT US
Our Premium Popcorn
Our butterfly and mushroom kernels are sourced from only the very best growers, ensuring we provide our customers with a consistently high quality product that maximises sales.
How Our Popcorn is Made
We pop the traditional way! Our popcorn is 'wet' popped in oil using traditional popcorn kettles before being seasoned and packaged in a wide range packaged options - including pillow bags, tubs, bulk sacks and more.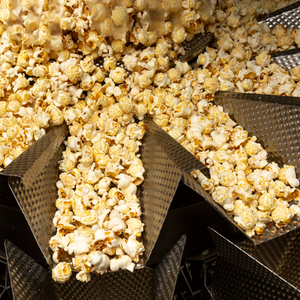 Bursting with flavour
Our team have over 50 years combined expertise in all aspects of popcorn, with experience co-packing for leading national retailers and brands of popcorn. We can fulfill any private label need, including popping corn, ready-to-eat popcorn and popcorn supplies.